Can I see and try on the products?
Customers are welcome to have a look and feel of the material prior to buying at the Contincare office (292 Pasir Panjang Road #08-294, Singapore 118633). For understandable reasons, the goods cannot be tried on.
Why Incontinence Underwear?
Many people from all ages suffer from constipation, stool and urine incontinence problems, be it due to temporary situations like an operation or not fully developed reflexes with children, or more permanent conditions, like advanced age or special needs.
Incontinence  Underwear will provide relief and  mitigate any inconvenient consequences of sudden incontinence.
DO NOTE : The Underwear is intended for daytime use, it will not avoid/mitigate bedtime wetting with adult or child euneresis. They are not suitable for situations where the blatter is emptied all at once.
How much can the underwear absorb. What are they made of ?
The children's underwear can absorb about 75 (girl)-80 (boy) ml over a 4-hour period. The adult's underwear can absorb about 125ml over a 4-hour period. The underwear does not absorb a full bladder, but it can capture drops and trickles over a longer period.
The textile let the urine stay in the pants, it therefore seldom becomes visible.
The UnderWunder brand has a special absorption crotch panel. It contains 4 layers that absorb light to moderate accidents. The 4 layers in the crotch panel easily absorb the liquid. This leaves the skin dry and the waterproof layer prevents leakage.
No need to worry about unpleasant odours –they are stopped by the absorption layer, which provides extra security.
What is the underwear made of ?
The briefs for incontinence are made of 95% cotton and 5% elastane. The absorbing part of  100% cotton. They do not contain any harmful substances and are certified with Oeko-Tex 100 Standard Class 1. The absorbing layer is anti-bacterial and breathable.  No harmful substances are used.
FItting & Design
The briefs should fit perfectly. They are no bigger than normal underwear, so they remain invisible to people in your immediate surroundings.
To enable a perfect fit, the underwear for children are produced in 7 sizes for boys and 6 for girls from the ages of 5 to 16 years.
Is the underwear washable?
Yes, the underwear is of a particular quality and can be washed frequently. Use a simple washing bag to segregate from other items. Wash at 40 to 60 degrees, never warmer to avoid shrinkage of more than 5%.  We recommend you use a neutral washing powder instead of liquid detergent because washing powder penetrates deeper into the fibre.
For a longer life, we discourage using the dryer. They can be tumble dried although they will remain in shape for longer if not.  Use the lowest setting.
The underwear can be ironed with an iron.
Why Incontinence pijamas ?
Unlike the incontinence underwear, the pijamas are for night time use against bedwetting. Pjama pants are made of a breathable material that retains liquid and keeps the bed dry.  So, when wearing Pjama, there is no need to change bed linen :  sheets, blankets and mattresses are well protected.  And they are as comfortable as any other pijama pants.
While it does not cure bedwetting, it is a simple and discreet solution to mitigate its inconvenient effects. Easily washable,  they are also a very environmentally friendly solution.
What are Pjama pants made of ?
Pjama is made of soft tencel, a breathable waterproof membrane and a superabsorbent material that keeps urine in the pants. The fabrics are Oeko-Tex certified.
What are the washing instructions for the pijamas ?
Pjama products can be washed again and again. Machine wash at maximum 60 degrees Celsius. They cannot be tumble dried, dry-cleaned, ironed or clorinated. Softener should not be used.
Drying time is longer due to the unique features. To shorthen this drying time, turn the items inside-out before drying. It is recommended to use two pants in paralell, so one can dry while the other one is being used.
Why Incontinence Swimwear ?
Intended for special needs children and adults.
Suitable for containing those embarrassing solid accidents whilst swimming, during hydrotherapy or in the sea on holiday. The swimwear has an outer shell with an inner waterproof swim nappy to contain solid bowel movement,. It may contain minimum quantity of urine or liquid, but is not designed to keep a full discharge of urine or diarrhoea.  The silicone coated elastic on the waist and the gusseted legs, creates a sealed to prevent leak.
The fabric is Chlorine Resistant;  UPF 50+; optimally breathable and is fast-drying; Its composition: 80% Polyester 20% Elastane (XTRA Life LYCRA(R))
Can I exchange or return a product?
Yes. Read  about exchange and return in our Terms and Conditions.
Is there a guarantee ?
The guarantee period for products is 3 months after delivery. PLease check our Terms & Conditions for further info.
What happens to my data?
We do not provide data to third parties and we respect your privacy. For more information, please consult the terms and conditions.
SIZE GUIDES
Size Guide UNDERWUNDER
UnderWunder slip Women
| | | | |
| --- | --- | --- | --- |
| Size | Waist | Leg opening | Hip |
| M (38-40) | 58 cm | 44 cm | 68 cm |
| L (40-42) | 62 cm | 46 cm | 72 cm |
| XL (42-44) | 66 cm | 48 cm | 76 cm |
| XXL (44-46) | 70 cm | 50 cm | 80 cm |
UnderWunder hipster Women
| | | | |
| --- | --- | --- | --- |
| Size | Waist | Leg opening | Hip |
| M (38-40) | 65 cm | 37 cm | 78 cm |
| L (40-42) | 69 cm | 39 cm | 82 cm |
| XL (42-44) | 73 cm | 41 cm | 86 cm |
| XXL (44-46) | 77 cm | 43 cm | 90 cm |
UnderWunder boxer Men
| | | | |
| --- | --- | --- | --- |
| Size | Waist | Leg opening | Hip |
| M | 67 cm | 38 cm | 87 cm |
| L | 71 cm | 40 cm | 91 cm |
| XL | 75 cm | 42 cm | 95 cm |
| XXL | 79 cm | 44 cm | 99 cm |
Size Guide DRY & COOL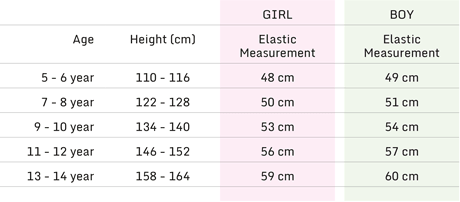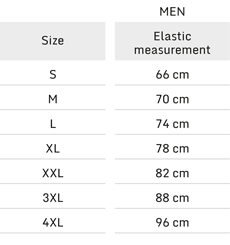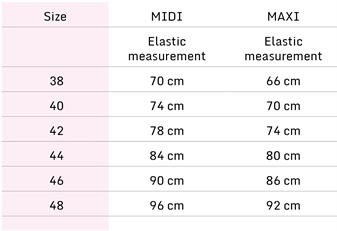 Size Guide PJAMA